Collagenase NB 6 GMP Grade; 1 g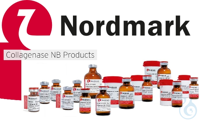 Die Abbildung kann abweichen und Zubehör enthalten, das sich nicht im Lieferumfang dieses Artikels befindet.
Bestell-Nr.: N0002779
Collagenase NB 6 GMP Grade; 1 g
768,00 €
für 1 Verpackung zzgl. gesetzl. MwSt. (20%) zzgl. Versandkosten
 manufactured according to GMP

Collagenases NB 6 GMP Grade from Clostridium histolyticum is a natural mixture of enzymatic activities and consists of collagenase class I and class II, neutral protease and clostripain. It is used for tissue dissociation such as isolation of human ADSCs, stem cells, chondrocytes, fibroblasts, neuronal and endothelial cells. This collagenase is manufactured under highest standards and is ideal for applications which have to meet GMP requirements like tissue engineering and transplantation.
Product Information
Origin
Clostridium histolyticum
Composition
Collagenase class I and class II1 as well as proteolytic activities such as neutral protease and clostripain
Molecular weight
70 – 120 kDa (collagenases)  
Special features
Manufactured according to international GMP guidelines
Sterile according to European Pharmacopoeia
Microbiological examination
Endotoxin*:
Sterility (Ph. Eur.)
Absence of Clostridia
Activities
Collagenase activity: ≥ 0.100 PZ U/mg lyophilisate (PZ activity** acc. to Wünsch, 25 °C)
Storage conditions
+2 °C to +8 °C
Shipping conditions
At ambient temperature worldwide
Intended use
For clinical applications
mehr
Artikel Details
Artikel-Nr:

N0002779

Gültigkeit:

31.12.2021

Letztes Update:

16.06.2021